Regular price
Sale price
$10.00 USD
Unit price
per
Sale
Sold out
This product contains a physical high quality 3D printed miniature, supplied fully cured with support material removed, ready for painting. 
Karina The Informer is a single miniature, as pictured.
Miniatures come with MDF bases supplied by Sarissa Precision.  
Karina used to be a high flying and feared pirate, but a run in with the law led to her turning on her crew to secure her own freedom.  She got off the hook that time, but has since been in the pocket of the Mercenary company, feeding them information from her underground network.  In exchange, the Mercenaries do their best to keep the remaining pirates from her old crew well away from her!
Shipping & Returns

Production and Shipping 

Please note that all orders placed through this UK website are produced at and shipped from Lion Tower Miniatures Limited (Trading as The Lions Tower), located in Solihull, UK.

We are not currently registered for VAT so there should be none to pay on any orders whether UK or international.  

Production

STL files and other digital products are already loaded into the product, and once added to your basket and paid for, will be added to your library.  Please ensure that you use a registered account in order that you can come back to download the products when you need to. 

All of our physical products are 3D printed to order on a first-come-first-served basis.  Please allow up to 10 working days for us to process your order. During busy periods this may be a little longer but you will be kept up to date on progress. 

Prints are carried out on a resin 3D printer with a <37 micron XY pixel resolution, and printed at 0.25mm layer height.  This ensures the best possible quality for you. 

Our resin of choice is Phrozen Aqua 4K - it is fantastic for picking up the detail on the miniatures and has enough flexibility once fully cured to be robust enough for regular handling and gaming. 

The printed models are thoroughly cleaned to remove any excess resin from the surface and all support material is removed* and the model is quality inspected to ensure that it meets our high standards.  They are then cured so they are safe for you to handle.

Some of our models may be supplied in multiple parts, and all are supplied with a separate base.  Simply test fit the parts dry so that you know how the model assembles, and then use superglue to fix the components together.  After holding the parts together for a few seconds, the glue should have cured and the parts will be fixed securely. 

The resin we use for 3D printing is UV curing, so exposure to UV light is what turns it from a liquid into a solid.  We supply the models perfectly cured and cleaned, ready to paint and game with.  Exposure to sunlight may continue to cure the resin resulting in a more brittle finish.  To preserve the flexibility of the models, please paint them as soon as possible - even a simple coat of primer is enough to block the sunlight and prevent excess curing.

*There may be some fine micro supports around the miniature but these can be quickly and easily removed using a scalpel or hobby knife.  

Shipping Costs

Shipping from the UK to anywhere in the world is a big deal for us! We ship all our orders via Royal Mail Standard Service.

In our shopping cart your shipping costs are dynamically calculated as you add products, so there should be no surprises at the checkout.

To provide you with a guide, our shipping costs break out into the following tiered prices by zone.  Please be aware that you are responsible for any Customs charges or import duties applied by your country.

United Kingdom (g)


0 - 1500: £5.00
1501 and up: £8.00


 

European Countries - Zone 1 (g)


0 - 250: £5.70
251 - 500: £7.20
501 - 750: £8.20
751 - 1000: £9.30
1001 - 1500: £10.20
1501 - 2000: £11.60


European Countries - Zone 2 (g)

0 - 250: £5.80
251 - 500: £7.40
501 - 750: £8.60
751 - 1000: £9.60
1001 - 1500: £10.70
1501 - 2000: £12.00

European Countries - Zone 3 (g)

0 - 250: £6.70
251 - 500: £8.60
501 - 750: £9.90
751 - 1000: £11.30
1001 - 1250: £12.30                                                                                            1251 - 1500: £13.40
1501 - 2000: £14.40

 

North America - World Zone 1 (g)


0 - 250: £8.20                                                                                                          251 - 500: £12.00
501 - 750: £14.70
751 - 1000: £17.50
1001 - 1250: £19.70
1251 - 1500: £22.00
1501 - 2000: £23.20



World Zone 2 (g)

0 - 250: £9.70
251 - 500: £14.30
501 - 750: £17.40
751 - 1000: £20.60
1001 - 1250: £23.50
1251 - 1500: £26.60
1501 - 2000: £28.30


Rest of the World - World Zone 3 (g)

0 - 250: £10.50
251 - 500: £16.10
501 - 750: £18.90
751 - 1000: £22.50
1001 - 1250: £26.00
1251 - 1500: £28.70
1501 - 2000: £30.00

Standard Service

Parcels sent by Royal Mail in the UK, usually take 2-4 days from shipping to arrival at your door. Shipping to the US usually takes 5-10 days with this method. See below for estimated timings for other countries.  

The following chart shows delivery times by country:

Ordering Country

Delivery Time (Working Days)*

UK

2-4

Western Europe
France/Germany/Belgium/Netherlands/Austria/
Czech Republic/ Ireland/Luxembourg/Poland

3-5

Southern Europe
Spain/Italy/Portugal

3-7

Eastern Europe & Scandinavia
Slovakia/Denmark/Estomia/Finland/Hungary/Latvia/Lithuania/
Slovenia/Sweden/Greece/Norway/Switzerland

5-9

European Islands
Iceland/Greenland/Cyprus/Malta

5-9
USA
5-10
Canada
5-12
Rest of World
5-10

*Delivery time does not include the time it takes to pick and pack the order. Delivery times are estimates. Orders can take up to 14 Days (UK) or 28 Days (RoW).

UK customers should receive their orders, on average, within 2-4 days of dispatch. Royal Mail states they'll deliver within 15 days but the vast majority of cases are much quicker than that (please let us know if it ever takes longer).

European customers generally receive their orders within 15 working days and Rest of the World customers within 28 working days. 

Please note customs charges may apply when shipping outside of the UK which Lion Tower Miniatures ltd are ineligible for.  Please be prepared to pay any fees before placing an order with us.
Share
View full details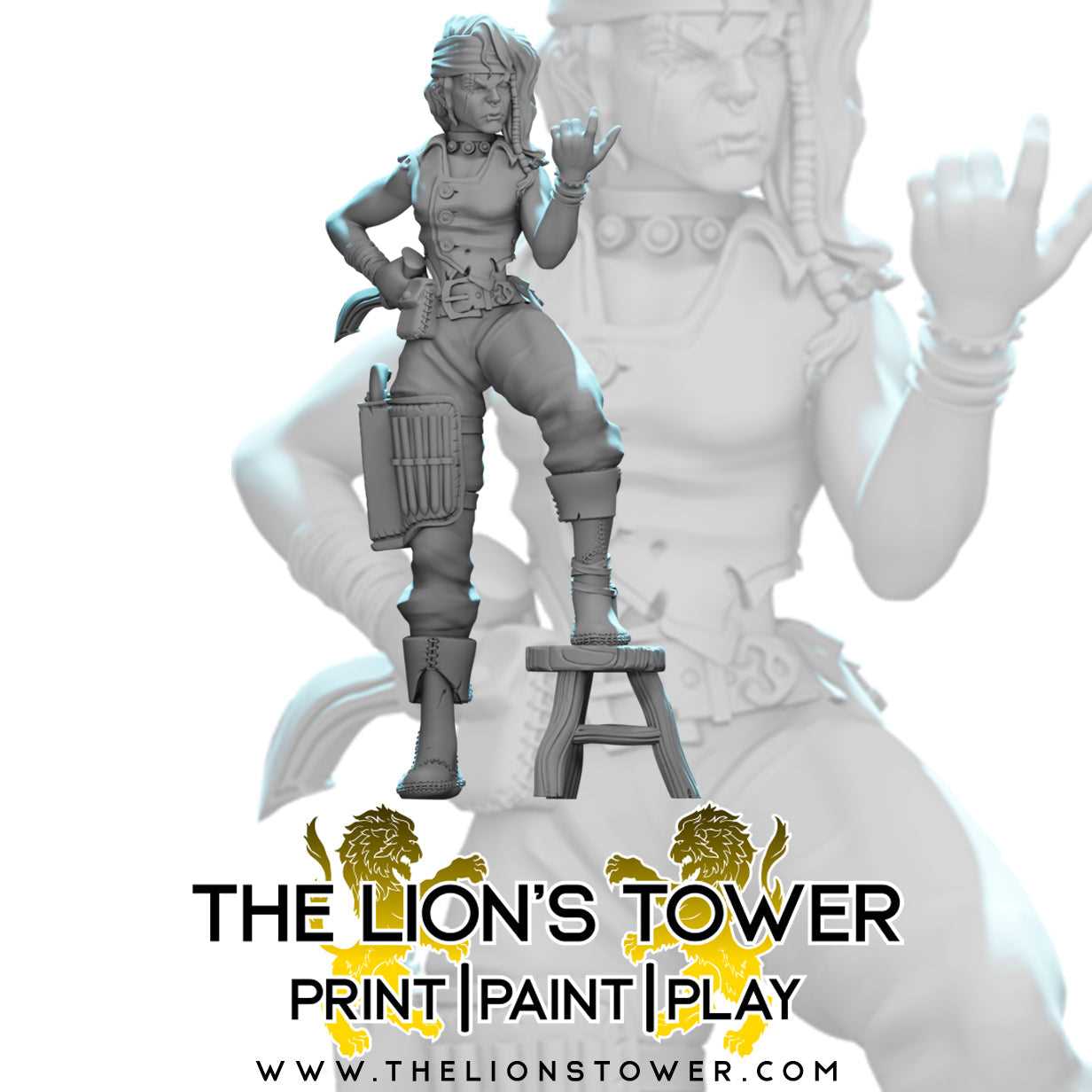 Want a discount and some other great bonuses?
Join our Patreon now to get access to a 50% discount off all STL files and 30% off all Resin models. You'll also get a free STL welcome pack and be able to request custom designs and engage with Dan directly.
Join Patreon Now
Free Shipping!

All orders over £50 within the UK and over £100 worldwide will benefit from free shipping! Use code FREESHIPPING100 at checkout to apply the shipping discount.

All Items Made to Order

All miniatures are made to order so please allow up to 10 days during busy periods for your orders to be processed.